Message from the President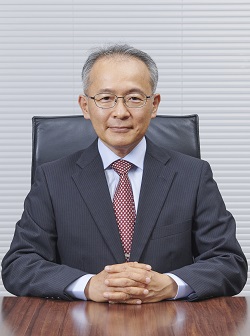 Tokyo Rope celebrated 128 years since the founding of the company on April 1, 2015. This achievement is certainly due to the generous and gracious support of all of you for well over a century. We hope to continue to support the development of the industry and the safety of our vital utilities in Japan and abroad, by providing high-quality products in response to such confidence in our company.
FY2015 was blessed with good news, including the announcement that the 2020 Summer Olympics will be held in Tokyo, such that while the Japanese economy gradually heads towards recovery, Tokyo Rope is proactively expanding our business operations both in Japanese and overseas markets.
Although the structural reform of our Steel Cord business, carried out from the fiscal year before last (FY2013), has resulted in our total operating income for the division as a whole returning to the black in the first half of last fiscal year, this reform will continue onwards as we are currently focusing measures on forging a strong business structure.
Our Wire Rope business is continuing to strive forward by making full use of the capacities of our Vietnamese plant, whose facilities were expanded last year to be able to provide a monthly output of 1,000 tons, and expanding both sales and market shares of elevator rope in the Chinese and Southeast Asia markets through our sales subsidiary in Hong Kong. Part of these efforts included the opening of our Bangkok office in February of this year to gain a better understanding of our customers' needs and strengthen linkages with locally advancing companies.
Last fiscal year, our Engineering business provided delivery of bridge cables for use in the construction of the Izmit Bay Bridge in Turkey. In addition to bridge cables, Tokyo Rope has implemented plans for the proactive expansion of safety and disaster-related products in overseas markets that included the establishment of the new Overseas Engineering Div. on April 1, with this division being responsible for establishing the framework for our overseas operations.
Our Gamagori Plant has started full-scale production of CFCC, the world's only technology unique to Tokyo Rope, while we have been further enhancing the production facilities of that plant. Ought it to be playing an important part of our company's business portfolio in the future, understand what a crucial year this fiscal year represents, and move forward with speed in our efforts for full-scale realization of our commercialization plans.
At the same time, we will continuously focus on the CSR policies we have followed in the past and that serve as the foundation of our business activities, maintain thorough compliance and strengthen our internal controls while we also work on improving our corporate brand, with all of these being important measures in our efforts to improve our corporate value.
Since the founding of Tokyo Rope, we have been contributing to society in wide-ranging and varied manners as a rope manufacturer with the mission of "connecting" all kinds of objects. We will continue to work hard in the future in order to remain a company in which all of you can trust and depend on.
Your continued and further guidance and support is greatly appreciated.