Management Policies
Basic Management Policy
Our corporate group, by implementing measures for enhancing competition in the global market as well as strategies for growth, will strive to enhance our earning capacity and financial standing. In doing so we will aim to achieve a high corporate value that will allow us to make further contributions to society in the 21st century as well, mainly by providing services that value the perspective of the customer.
Pursuing "Total Cable Technology" (our Mid to Long Term Vision)
Our corporate group has continued to make daily strides in pursuit of Total Cable Technology, which is our mid to long term vision.
Total Cable Technology is a phrase that expresses the unique strengths of Tokyo Rope, which are: (1) A lineup of cable manufacturing products made from a wide range of advanced materials such as ultra-high-strength steel, high-function fiber, and carbon fiber; (2) various types of cable processing technology suitable for the field of use; (3) combining solutions such as soundness diagnostics and engineering; and (4) providing breakthrough products and services at bases of operation by expanding our business globally by targeting global markets.
We will continue to grow as one of the world's leading companies by taking full advantage of these unique strengths, even in today's global era.
About TCT-Focus 2020 (our New Mid Term Management Plan)
Our corporate group formulated TCT-Focus 2020, a new medium-term management plan, to serve as a guideline for carrying out our projects between the March 2016 and March 2020 terms. The main components of the plan are as follows:
1. Main Philosophy
In this plan, the next five years is considered as the period for "further enhancement of our business base and starting and implementing our strategies for growth."
During this period, in an aim to establish the foundation for our "strategies for growth" aimed at sustained growth following the special demand resulting from the 2020 Tokyo Olympics, we will strive to transform our company so that we are able to show a unique presence in the market by making further technological innovations as well as bringing about changes to our business structure, enhance our cost competitiveness, and achieve growth in the international market.
Our primary objectives are to "achieve sustained growth into the future and make contributions to society." In an effort to achieve these objectives, we will strive to revitalize all our projects by keeping three phrases in mind: "Strengthening of Domestic Business Base," "Challenge to New Materials and Technologies," and "Overseas business Expansion."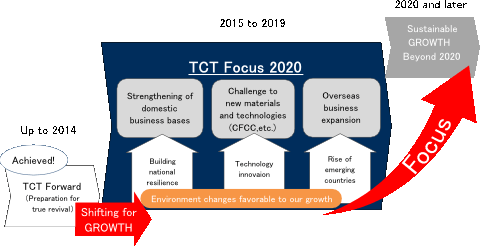 2. Numerical Targets (Consolidated Basis)
[Numerical Targets for Business Operation]
TCT - Forward
TCT - Focus 2020
March 2015 Term
March 2016 Term
March 2018 Term
March 2020 Term
Net Sales (in billion yen)
73.3
73.5
81.5
90
Operating Income (in billion yen)
3.9
4.2
5.4
7.8
Ordinary Income (in billion yen)
4.4
3.9
5
7.5
Overseas Net Sales Ratio
20%
14%
20%
25%
[Plan for Investments in Operating Resources]
TCT - Forward
TCT - Focus 2020
March 2015 Term
Total for 5 Years
Amount of Capital Investment (in billion yen)
2.8
17.8
Research and Development Costs (in billion yen)
0.9
5.2
[Financial Index]
TCT - Forward
TCT - Focus 2020
March 2015 Term
March 2016 Term
March 2018 Term
March 2020 Term
EBITDA (in billion yen)
5.9
6.3
7.9
10.6
Capital Adequacy Ratio
23%
26%
28%
35%
D/E Ratio
1.5
1.1
1.0
0.6
3. Measures and Policies for our Projects
Promotion of the CFCC® Project, which has Grown and Gained Momentum

1) Market in North America (for civil engineering and electrical cables)
Generally speaking, the lifespan of a concrete bridge is roughly 50 years. In the United States, many bridges, which were constructed during the 1960s, are reaching the ends of their life span. On top of that, the bridges are in a critical state, as they are deteriorating early due to salt damage and other causes. As a result, the redevelopment of concrete structures has become an issue of major concern.
Our company determined that using CFCC®, which is extremely durable and does not decay, would be the best solution to resolve the issues described above. Therefore, in August 2011, we established Tokyo Rope USA, Inc. in the state of Michigan in the United States and have focused our attention on conducting latent demand surveys and carrying out activities for disseminating our technology.
These efforts resulted in an official decision made by the American Association of State Highway and Transportation Officials (AASHTO) - the organization which plays a leading role in maintenance and improvement projects for the road traffic network covering all 50 states in the United States (also covers areas in provinces in Canada and other neighboring countries) - to establish guide specifications that involve the use of CFCC®. It is expected that a draft proposal will be announced by the end of 2016 and that the guide specifications will be standardized by 2018. Given that CFCC® will become a standard in the near future, we anticipate that more states in the United States will be in touch with us.
In North America, a high demand for CFCC® is expected not only in the market for civil engineering for bridges, but also for overhead power lines. CFCC® is used as a reinforcing material for high-temperature, low-sag electrical cables (herein after referred to as HTLS). We envision exploring the electrical cables market in the coming years.
In May 2015, in response to the circumstances described above, our governing body made the decision to construct a factory in North America. As for the location of the factory, we came to the conclusion that Michigan would be the best location, given our long standing partnership with Lawrence Technological University and considering that they have provided us with a strong system of support for setting up a new factory in the United States - through the Michigan Economic Development Corporation.
We are aiming to begin production at our North American manufacturing base at the start of the calendar year in 2016. The goal will be to match the production capacity achieved at the Gamagori plant. With our new factory in the U.S., we have established a supply system for our CFCC® project from two manufacturing bases: Japan and the United States. We expect that this will cut down on delivery time, which is a customer need.

2) The Indonesian Market (for electrical cables)
Since 2010, Indonesia's economy has grown by over 5% each year. In addition, the electricity supply network has expanded, as the demand for electricity has increased by about 10% each year, the majority of this increase being in urban areas.
The electrical power cables, which are reinforced by CFCC®, have been highly recognized by Indonesia's electricity authority. Compared with aluminum conductor steel reinforced cables (ACSR), the CFCC® power cables are lighter, less likely to sag from heat, extremely flexible (due to their stranded conductor structure), and resistant against external damage. We are supplying CFCC® to PT Voksel Electric Tbk., a local electrical cable manufacturer, and we have since received more requests to supply CFCC® to the company.

It is expected that the Indonesian economy will continue to grow and that the demand for electrical power cables will grow steadily. Therefore, we will expand our business by securely capturing the demand for electrical power cables in Indonesia with a vision of continuing our efforts toward expanding our scale of production.
Demand for electrical cables which are reinforced by CFCC has been confirmed not only in the United States and Indonesia, as explained above, but all over the world; e.g., China, Egypt, and countries in Europe. According to past studies, the global market for HTLS electrical cables is estimated at 400,000 km per year. This includes both new installation and replacement projects.
Our company will begin by focusing our attention on tapping the markets in North America and Indonesia, where the presence of the market has already been confirmed. We will then invest in capital in a smooth manner while we continue our efforts for developing a global network for supplying CFCC®.

Actively Tapping into the Overseas Infrastructure Demand as well as New Markets

Product lines such as road safety products, bridge cables, and elevator wire rope meet the demand for infrastructure development in developing countries. In recent years, our overseas projects have made significant contributions to our company's profits. During the period covered in this medium-term management plan, we will implement further measures for the overseas expansion of these product lines in an aim to yield results not only in regions where the markets for the products already exist, but also in new markets where we have continued to promote our products.

1) Selling Emergency Goods in Countries in Central Asia and the Middle East
Overseas sales of emergency goods saw significant growth in the March 2014 term, partly due to the demand for building infrastructures resulting from the preparation for the Winter Olympic Games in Sochi, Russia. In an effort to actively extend these results to other regions, in April 2015, we established the Overseas Engineering Department. The purpose of establishing the department was to build a structure aimed at capturing the overseas infrastructure demand.
First, we will focus our attention on expanding sales in countries in Central Asia and the Middle East, where the market for emergency goods has the potential to grow. We have made active efforts to expand sales of our products in Saudi Arabia. In May 2015, for instance, we signed a vendor agreement with the Saudi Arabian Oil Company, an oil company operated by the Saudi Arabian government, and completed the registration process. By taking full advantage of this vendor agreement, we will strive to expand the sales of our emergency goods in the Saudi Arabian market as well as promote our products in an aim to implement the de facto standard for our company's specifications in Muslim regions.

2) Expanding Sales of Bridge Cables Overseas
During the March 2015 term, our company manufactured and shipped cables for the Izmit Bay Bridge in Turkey. In the future we will aim to continue to undertake projects for major buildings and structures in Turkey and use that as a springboard for expanding our bridge projects further overseas.
Turkey, which has seen significant economic growth, has many projects involving bridges, due to geographical reasons. Our company will strive to expand our business with Turkey as our central base for tapping the markets in the Middle East and Europe.

3) Expanding Sales of Elevator Wire Rope (hereinafter referred to as EVR) in Growing Overseas Markets
Technological and developmental capabilities for EVR are a few of our unique strengths. In the future, we will continue to engage in efforts to strengthen our relationship with Japanese users who are based overseas, and by doing so we will capture a vigorous demand in China, Southeast Asia, and India.

Transforming the Structure of the Steel Cord Project

In the tire cord industry, in which competition in the global market has heated up, differentiation in production type and quality has become increasingly important. Therefore, there is a need to engage in efforts to make significant changes in quality.
We will strengthen efforts to provide products with high added value for not only the tire industry - an industry with a strong demand for environmental performance - but for each industry that requires high-strength and fine wire. We will also strive to expand our portfolio of products as well as increase profitability.

Capturing the Domestic Market Securely by Responding to Infrastructure Demand (e.g. Building National Resilience)

Our company has earned a high level of trust and developed brand strength in the funicular line and developmental product industries, respectively. By taking advantage of these strengths, we will strive to enhance our contributions as well as maximize our profits in domestic markets - which have shown an upward swing and are expected to show continuous strong demand for products related to "safety, disaster management, the environment, and eco-friendliness" in the coming years.
4. Aims for Dividend Distribution
As announced in the Consolidated Financial Results for the Fiscal 2014, the resumption of dividends is planned for the fiscal 2015, which will be the first dividend distribution in four terms. Our company will continue to make every effort to create business opportunities in an effort to expand the return to our shareholders by striving to further enhance our earning capacity.
Our corporate group will implement this medium-term Management Plan collectively in an aim to enhance our corporate value continuously. We will do everything in our power so that we will be able to live up to the trust of our many stakeholders, including shareholders, customers, suppliers, and employees.